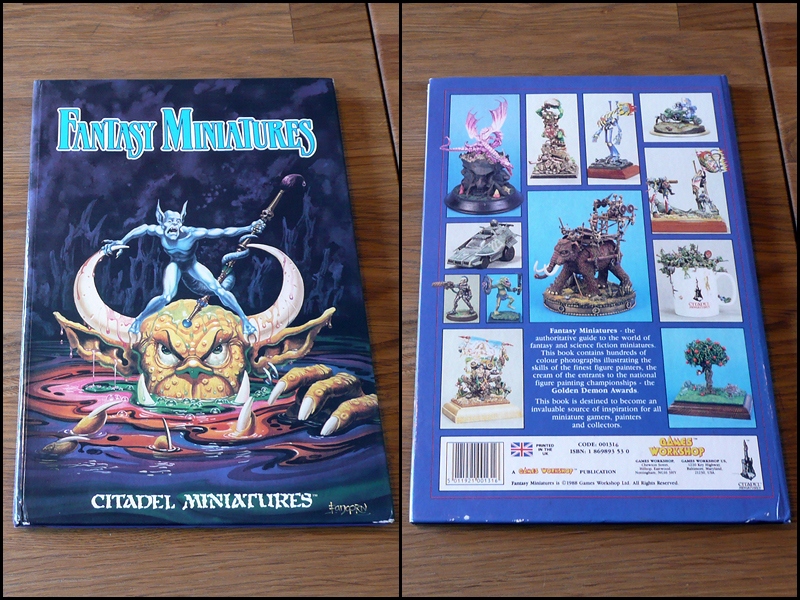 I have a fairly whimsical approach to uploading. I have a huge pile of retro Warhammer stuff that I feel readers of this blog would be interested in. There's so much of it in fact, that I feel it will take me years to get all the literature scanned and published online. I have had a few requests for this and that (White Dwarf 92 will be with you shortly) but generally I just put up what takes my fancy and consider useful to others.
Fantasy Miniatures was the first hardback book that GW published that set out to document the miniature painting hobby. It concerned itself with the Golden Demon Painting Awards of 1988 (the second held by GW) as well as the generous helping of staff work unseen, generally, in the pages of WD.
It is a thick slice of retro heaven!
I am sure that many of you may already own this book and the others (two further volumes were produced; one in 1989 and another in 1990) but I am aware that many people may not have seen these classic books. I've not seen them available on-line before so I'm sharing them with you all as the pages of the book are stuffed with inspiration.
Here's a little overview so you know what you're getting...
P2-4: A brief introduction that outlines the development of Citadel miniatures and the rise of fantasy miniature painting in general. I enjoyed reading this; particularly because the writing treats you as an adult rather than bombasting you with nonsense as is the whim of modern GW - no 'really coolz' or 'awesome miniaturez' here thankfully.
P5-7: A selection of staff shots, including a 'rogue's gallery' of the studio painters circa 1988. The haircuts are something else I can tell you! Some really nice miniatures here too!
P8-9: A gallery of Paul Benson's work. A true retro painter's hero!
P10-11: The legendary Frazer Gray's work is profiled.
P12-12: Michael Immig's fantastic dioramas are discussed (as seen in WD100).
P14-37 Selected Miniatures from the 1988 Golden Demon Awards.
P38-39 A short, simple painting guide- doesn't treat you like an idiot though!
And there we have it. Eventually, I'll get around to uploading the other two books but for the meantime there is plenty here to enjoy. These books serve me as perfect 'lavatory reading' and I have been flicking through them for years. Every time I do, I spot something different or I'm encouraged to track down a particular model on eBay.
What strikes me when looking through these books about miniature painting is, though technically, products and application have moved on considerably since the late 80s, the creativity seems to have been lost. There are truly some astonishingly crazy things going on in the pages and some of the ideas are bizarre to say the least... Additionally, there is not an abundance of spikes, skulls or general grim dark nonsense.
If I were asked to choose a favourite?
It would probably be Mark Harrison's Monster Tree on page 35 (and the back cover) as I love the way its eating its own apples.
Fantasy-Miniatures-1988
Orlygg.