Advert for Kerrang magazine in WD125- very unusual considering GW had dropped external advertising some years previously.
Strange as it may seem now but GW once had very strong interest in music; if you call heavy metal
music
that is! They even had their own record label; Warhammer Records, and this post hopes to explore this rather peculiar little slice of retro history in a little way. Really, this post is about the bands who were linked to Warhammer or Games Workshop in some way and there may well be others that my research has missed.
Advert on the back page of WD94- Warhammer 3rd Edition Release notes and a heavy metal flexi-disc? What's going on..?
As far as I can tell, our story begins in 1987 with the band Sabbat.
Issue 95 of White Dwarf was a very special publication; it not only contains the release information for our beloved Warhammer 3rd Edition but it also has a free flexi disc of a Warhammer inspired song, 'Blood for the Blood God'.
Here is a period picture of our heroes, Sabbat.
Instead of me waffling on at this point, I'll quote the article from the magazine in full.
"Be honest, you were wondering what we were doing putting a Flexi Disc into this month's White Dwarf.
Is it music to roleplay by? Something for the GM to listen to while the party argues about how many
days rations to buy? Or are we previewing the soundtrack to Thrud - the movie?
Well… nearly. Avis Blanche sacrifices her eardrums in a gallant attempt to discover The Truth.
What's the connection between Sabbat and White Dwarf? Who are they, and how did they manage
to talk White Dwarf into carrying a flexi disc of their music? Well, call 'em sharp-eyed but the Games Workshop staff who have been dragging themselves along to Games Day and various Dragonmeets
for the last few years finally caught on that there were a lot of gamers turning up wearing the same
T-shirts. They found out that Saxon wasn't the name of a roleplay supplement for RuneQuest, and
that Def Leppard weren't in the Monster Manual, and they discovered that a lot of roleplayers were
into more than one kind of 'Eavy Metal. And that was when Da Boss started kicking around with
the idea of giving away a flexi disc with WD. But which band should they choose?
The origins of the link between Sabbat and GW go back several years. Martin Walkyier (vocals) and
Fraser ('Scit') Craske (bass) were both at Redhill School in Nottingham, where they used to play D&D
under the guidance of Andy Caley ('He knew everything about it'). Scit was Jethro of the Tull and
Martin played a multitude of Elves - he had a habit of getting killed. Sometime during 1983, they
formed a band called Hydra, with a guitarist and a variety of drummers… They were influenced
by 'all the usual bands' - Rainbow, Saxon, Motörhead, and later, Venom and Mercyful Fate, a
copy of whose album Martin had obtained from a friend who had a more conservative taste.
Eventually and inevitably, the band took precedence over games, but they kept up the interest in
gaming, knowing that the imagery of roleplaying was something they could develop through their
music.
John Blanche heard the band on the Friday Rock show and was subsequently introduced to Scit at a
Slayer gig. So, when the flexi-idea came up, John put two and two together and put the idea to the
band. They were equally keen to record a track for WD. It was eventually decided to use Kev Bower
(ex-Hell) as the producer, and Yew Tree Farm as the studio. The name Blood for the Blood God was
taken from the battle cry of Chaos Warriors of the god Khorne. An impending recording session
with a German company called Noise, meant there was very little time available, but the band
themselves believe they produce their best work under pressure. And three days later, the deed was
done.
Some history. Scit had been playing the bass since he was thirteen. Martin had originally
experimented with sax and guitar (not together!) but eventually progressed to vocals. He discovered
his voice when he was playing around with a microphone one day. 'It just came out' - whatever that
means! If you've listened to the Flexi, or have heard the group live, you'll know that Martin's vocals
are strikingly different. The diminutive front man's eerie tones conjure dark and foreboding images
of a nightmare fantasy.
Meanwhile, out in the wilds of Derbyshire, far from the gaze of man or beast, Andy Sneap was
spending most of his time strumming away on his guitar. His influences were Quo ('when I was twelve')
he stresses, Accept and, of course, Mercyful Fate. A major influence was another local band, called
Hell, now sadly disbanded. Andy had lessons in rock guitar from Hell's lead man, Dave, for about
two years.
Finally, Simon Negus, the drummer. Simon was bashing away on his mother's tupperware from
early age, and progressed to a drum kit at the age of twelve, 'when a two piece jazz kit cost
twenty-five quid'. He played in a Long Eaton band, Striptease and was then influenced by 'soft rock'
like the stuff spewed out by Journey.
Frazer and Martin met Andy at a Hell gig and, eventually, Andy joined the group, replacing the
guitarist. Simon joined shortly afterwards, and the Sabbat line-up of today came into being.
Sabbat was officially born in June '85, the name being changed from Hydra at that time. It was
decided to scrap most of the previous material, so they spent most of the rest of the year writing
and rehearsing. They felt that many bands were too hasty to get out and play, without having enough
to offer, so they were determined to plan ahead. Since then, they have achieved a great deal - and
all the signs suggest that they'll go on to greater things.

At this point, it's essential to mention their live show, something for which they have acquired quite
a reputation. If you've seen it, then you know what I'm talking about. For those who haven't, be
assured, it's a spectacle. As most of the numbers 'tell a tale', avoiding the clichéd death/blood/death
lyrics that most black/thrash metal bands get sucked into, the performance move along accordingly,
building up to a dramatic climax. Various effects may include the ubiquitous smoke, pyrotechnics
and props (swords and axes), and the costumes carry a gothic Witchfinder General feel to them

Various stage devices have been used; the Exploding Shield ('We didn't dare use it'), The Funeral
Pyre ('Needed to be bigger'), and all manner of explosions, one of which scorched the drum riser.
However, none of this is meant to detract from the main event, the band's playing, which stands
very firmly on its own.
Generally, Andy writes the music, getting the basic idea across to Scit and Simon, who help develop
it, whilst Martin writes and performs the vocals to fit. Sometimes, he has the vocals already. 'Ideas
just pop into my head.' Martin reads a lot - favourites are Tolkien and Donaldson - and can reel
complex lyrics virtually off the cuff. He keeps all the band's lyrics in his head, no mean feat if you
read Blood for the Blood God, and then realise that at any given point there are about fifteen songs
in the bands repertoire.
Current musical influences include King Diamond, Overkill, Metal Church, Celtic Frost and early
Venom. Sabbat are not keen to be labelled, but if pushed, the term Black Rock could be used.
Their first gig was on the 20th December 1985 at a Nottingham college, followed by gigs as such
diverse places as Remand Centre 3 ('They loved us'), pubs, clubs and leisure centres. Most recent performances have been at Trent Polytechnic, and at a charity gig in Nottingham Market Square
(outdoors, with suitably overcast, stormy weather) to raise money for cancer research. They had
their London debut at Dingwalls, subsequently receiving rave reviews in Kerrang! who described
them as '…the heaviest band in Britain'.
In May '86, the band put together a tape under the title, Fragments of a Faith Forgotten. The tape
was sent to various record companies, including Noise, a German based label. Noise were interested
but hesitant about signing up an unknown quantity. Music for Nations thought their songs 'a bit long'.
But a tape was also sent to Tommy Vance on BBC Radio One's Friday Rock Show, to see if he would
review it in his Metal Hammer column. The next thing they heard was a phone call inviting them
down to record a session for the program in London. Apart from the van breaking down and leaving
them stranded in the Big Smoke, this went down well.
The band sent a copy of the session back to Noise, who were impressed enough to ring them up and
offer and immediate contract (March '87). This was signed in August this year, as they had to wait
until Andy reached the age of eighteen. By the time you read this, Sabbat will have been to Berlin to
record their first album at the Horus Studios with producer Roy Rowland.
Though some people have taken offence at their stage exploits, the band are quite firm about their
image. 'Look what Alice Cooper gets away with. We're not going to change our image for anyone.
Not even the Americans!"
Taken from issue 95 of White Dwarf Magazine
I have managed to track down a copy of the song on Youtube. Here it is for your retro listening amusement. It's a bit noisy to start with, but I assume that is just the needle being set up on the record player. He certainly has an 'interesting' voice don't you think? I have included a copy of the lyrics in the above article if you are interested.
Eventually, Sabbat managed to record their first album and John Blanche adapted one of his paintings (Horned is the Hunter) to grace the front cover. The album, A History of Time to Come, was released in September 1988 and was, as far as I can tell, well received by thrash heads everywhere. They released a second album, Dreamweaver, a few years later before breaking up in the early 90s. However, this is not the end of their story; for the band reunited in 2006 and have played a great many festivals since then- I wonder if they still do 'Blood for the Blood God?'
Front cover, featuring the artwork of John Blanche, to Sabbat's first album, A History of Time to Come.
THEN CAME BOLT THROWER! Named after the iconic weapon of the Elves, these Nottingham thrashers turned up on the scene. Like Sabbat, they were inspired by the games Warhammer and Rogue Trader but took things a step further and recorded an entire album (not just a single song like Sabbat) inspired by GW's game worlds. The album was entitled 'Realm of Chaos' and can be considered the soundtrack to the Realm of Chaos books, especially Slaves to Darkness that was released around the same time. The album, and the band, were advertised in White Dwarf for some time but, sadly, no major articles were written.
Bolt Thrower are still going and are a very well respected Thrash Metal band.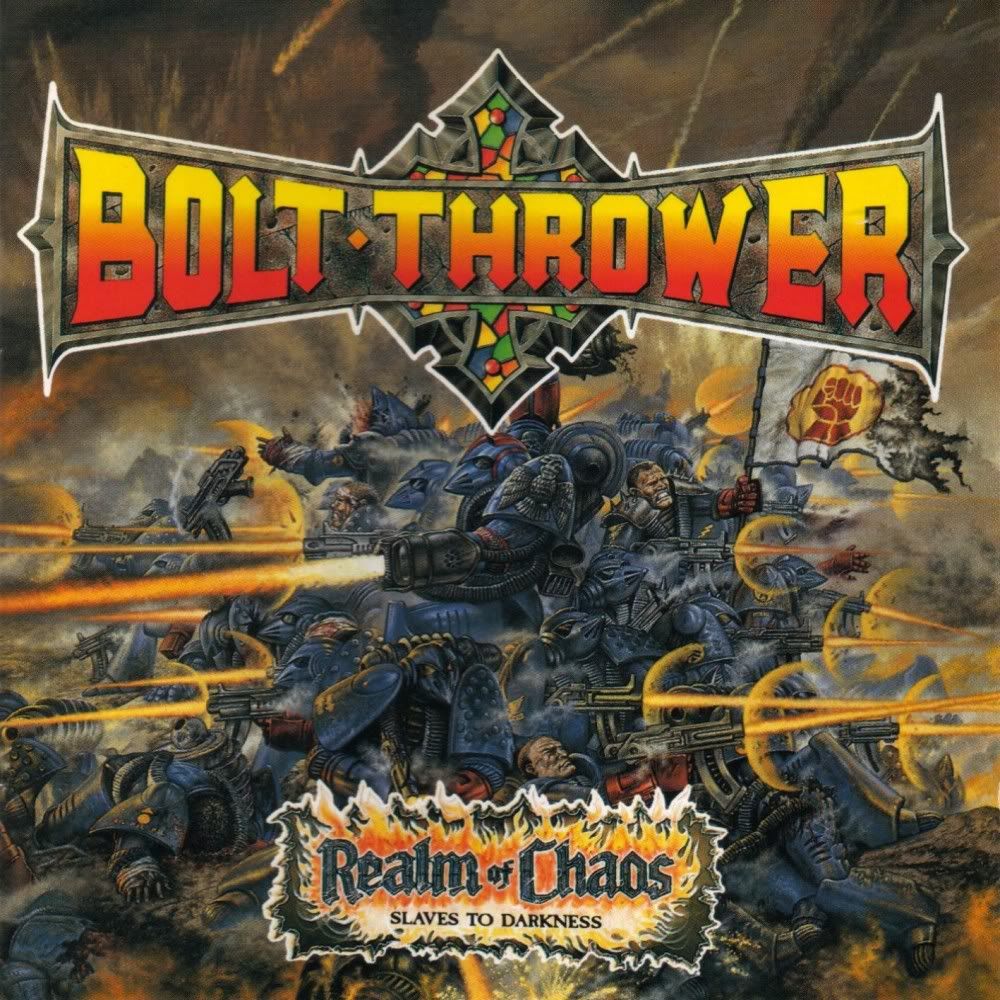 Iconic Cover to the Classic Album
I own this album, having tracked it down on eBay. It has the original artwork by GW. A more recent release (for example, the one available on iTunes) has different, non-GW artwork included. Presented for you below is my personal favourite track for the album- World Eater! Brutal, grinding metal which conjures up images of twisted, evil World Eaters striding through broken cities! You Have Been Warned!
Batfish made several appearances in WD around this time. Their history has little to do with Warhammer or Rogue Trader, as they were just a band around at that time but the members had a real interest in GW games.
Here's a quick bio on the band quoted from Wikipedia.
The band was formed by former March Violet Simon Detroit (b. Simon Denbigh)(vocals), and ex-Skeletal Family drummer Martin Pink, along with Johey Elliott (guitar), and T.G. Ashton (bass).[1] Their goth-rock tendencies soon gave way to a more Stooges-influenced garage rock sound, with "Swamp Liquor" their first release on their own Batfish Inc. label in 1985, followed soon after by debut albumThe Gods Hate Kansas,[1] prompting comparisons to the likes of The Cramps and The Gun Club.[2] In 1986, Zero Rek (Martin Herbert) was added on guitar, the band's second album, Head, also appearing that year, now with psychedelic blues overtones.[2] With the band's sound getting progressively heavier, and with a new rhythm section, they were signed by Motörhead's label GWR in 1987, shortening their name to Batfish, the first release on the label being 1988's "Purple Dust" single.[1] 1989 saw the release of the band's third album, Batfish Brew, followed by a 12-inch picture-disc single, a mash-up cover of Queen's "Another One Bites The Dust" and "Purple Haze". The band split shortly afterwards. Simon Denbigh was declared Cult Hero No 36 by Classic Rock Magazine in 2010.
Here the lead singer, Simon Detroit, enjoys a game of Dark Future. I am loving those diecast models. What a great blog Dark Future would make eh? Anyone writing one?
Get those toes tapping to this choice cut from the Batfish Boys. Certainly some interesting tunesmithing but Jimi and Freddie did it better, though.
But that wasn't the end of Simon Detroit! Or shall we call him by his proper name, Simon Denbigh. He formed a new band under the watchful glare of a new record label, Warhammer Records. Quite who ran this label I have not been able to fathom but as Bryan Ansell began to end his time with GW he encouraged his employees to branch out further from games. After all, the books had been successful, so why not music?
D Rok would be the band (apparently named after the asteroid weapons of the orks) and they would release one album, Oblivion. I don't own this CD, though I have looked on eBay many times. It is not as easy to come by as Realm of Chaos but after a little searching that tracks can be found on Youtube and other sites online.
There is a slight addition to the story of DRok. That is a little connection with British Supergroup Queen. Apparently, Brian (I haven't changed my hairstyle in 40 years) May's children were well into GW games in the early 90s. They even visited the studio! Look below...
Well he was so impressed by the boys from D Rok that he offered his services to them as a guitarist. He appears on the track below, entitled 'Get outta my Way' as well as another track which I couldn't find in time called 'Red Planet Blues'. According to the sites I visited, Noise Marines was another popular track from the album so I have included that too.
Get outta my way
noise marines
Players of the 90s version of Space Hulk on the PC, Amiga and Atari may well recall the first track there. 'Get Out of My Way' was included on the game's soundtrack.
All bands have to tour, and it was true of D Rok as well. Here is a flyer published in WD in 1992 advertising the tour for the album. Quite a lengthy string of dates there! Any readers of this blog go? In time, the band supported other groups on their tours, such as UFO. However, they weren't the only band that Warhammer Records signed!
You can smell the leather just by looking at the picture can't you? Obviously avid followers of Slannesh this time!
Wraith remain the most enigmatic of the 'Warhammer' bands insofar as there is very little information available about them. I found a website or two that suggest that the band have recently reformed but nothing substantial.
Sadly, with the departure of Bryan Ansell and the formation of GWplc the crazy, quirky business ideas like books and music were quietly retired. Tom Kirby took over the company, floated it on the stock market and aggressively targeted 12 year olds rather than the leather wearing biker/roleplayer of the 80s. The books resurfaced in the late 90s, and has proved successful if largely hack written and depthless. So I'll leave you with a track from Wraith, its called 'Danger Calling' and its an appropriate end to this post as I can hear the dangerous tread of my wife upon the stairs even as I type.
danger calling
So then! Any further information? Images? Tunes? Memories of Warhammer Records? If so, share with us your knowledge in the comments section below.
All together now...
Blood for the Blood God
Chaos Claims Thee!
Orlygg.