Black and white advert from 1988 showing the range of paints (and their associated sets)
available at the time.
Introduction
I used to be an archaeologist. An illustrator to be precise. I used to draw finds, particularly lithics (that's stone tools for the rest of you) and ceramics. Trouble is, archaeology is a fascinating but ultimately impovishering mistress so I gave it up and took up teaching instead. I'm still fully trained and knowledgeable about the subject and I find that these influences find their way into my collecting and painting. It seems that there are a fair few other oldhammering archaeologists out there too! Strangely, both Nigel Stillman and Rick Priestley were both archaeologists too - funny how digging and miniatures seem to have a longstanding relationship.
Recently, there was a thread opened on the Blood Forum (started up by the enigmatic Masp) about the subject of retro painting, or 'archeaopainting' to use his terminology. I must confess to being a retro painter but what do I exactly mean by this? Well in truth, I consider this to be the use of materials available to the painter and modeller contemporary with our favoured period 1985-1992. Primarily this involves using the original paints (designed in part with Mike McVey) produced for Citadel from the mid 80s onwards.
I thought that a quick post detailing this range of paints would be useful for any other gamers (like Masp) who are interested in doing the same.
Advert taken from White Dwarf from 1989 showing the (then) new Space Marine paint set.
The Early Sets
You can see by the general state of the box that the Colour Set has seen some SERIOUS action over the last 25 years!
The Citadel Colour Paint Set was the first to be released around 1985. Its premise was to cover the most used colours for fantasy gamers, only rather than sticking with bland names such as 'red', things were GWed up to a more Warhammer-centric terminology. Subsequently, paints such as Bronzed Flesh, Enchanted Blue, Sunburst Yellow, Mithril Silver, Shining Gold, Blood Red, Woodland Green and, of course, Skull White and Chaos Black.
Some colours remained until the range was 'updated' with ridiculous names earlier on this year while others, such as Woodland Green and Shining Gold, disappeared in later years but by and large these 'core' colours remained the bedrock of the Citadel Paint range for over twenty years.
I really like the arty paintings on the front of the box, shame that they were dropped.
According to the advertising, the Creature Paint Set was designed to broaden the near limitless shading and highlighting effects possible with the Citadel Colour set. It contained such stalwarts as; Rotting Flesh, Goblin Green (slottabases best friend), Chainmail, Worm Purple and later discontinued colours such as; Elf Grey, Hobgoblin Orange, Orc Brown, Spearstaff Brown and Swamp Brown.
For me, as a retro painter, this is my most used set of colours after the Citadel Colour. As it says on the tin, these shades are really useful when highlighting or shading models. The shades in this set are natural, earthy tones for the most part and mix nicely with the more vibrant colours from the previous set. The box I bought on eBay last year was practically mint. A lovely find.
Fantastic painting on the cover of the Monster set.
The third of the initial paint sets was The Monster Paint Set. This set was the complete opposite of the Creature Paint Set as the colours were much more varied and brilliant. The blurb on the back uses the adjective 'scintillating' to describe the colours and indeed the word choice was most apt. This set was always my favourite in the 1980s as it contained Titillating Pink, Electric Blue and Bilious Green, my favourite retro colours. Imperial Purple, Moody Blue, Bestial Brown, Brazen Bronze, Red Gore and Ghoul Grey completed the set.
One of the big attractions to these sets were the lovely painted miniatures on the back and the Monster set was particularly memorable. I remember staring avidly at them on the way home in the front seat of my dad's car absolutely positive that the miniatures that I'd paint later that day would be just as good as the ones on the back of the box. Of course they never were... And I still have that dream today...
Into Inks
A different style of packaging was the order of the day for the Expert Set. The dropper bottles
were later replaced with the standard pot, only with a black lid.
I never used inks back in the day. I used washes made from watered down paint. To be honest, my method of painting was pretty basic. I'd paint on the base colours as well as I could and then I'd wash over with a black wash in an attempt to add shading. It would often look fantastic when wet, but when it had dried I was left with a dirty, muddy looking miniature.
In fact, the first time I actually used inks was after I bought the Mega Paint Set in 2004. My prime shade was the chestnut wash, mostly for flesh and I was often unhappy with the gloss finish that the inks left on my models. When I went retro for my Realm of Chaos campaign with Dan, I dug out the old inks and used them in place of the new washes. It wasn't until last Autumn that I actually got my hands of a set of inks that I discovered just how good this range of inks were. The colours are FANTASTIC! Nothing else compares to them. If you are going to buy anything old school wise for painting, I'd recommend these inks every time.
The Later Sets
In the later 80s and early 90s the range was expanded once again, largely due to the influence of Rogue Trader on gaming. Sci Fi was the new fantasy and Space Marines were fast becoming a very popular range for GW. To capitalize on this, Citadel released several sets which included more exotic colours for the growing number of gamers who fielded alien forces.
I have many happy memories of painting up Space Marine using these colours - loved that game!
The first of these new sets was the Space Marine Paint Set. I can remember this one coming out vividly and I can remember pouring over the painting guide that came with it for many, many hours. This set was more of a concept set; the idea being that each shade required to paint the four most popular chapters were provided (being, Blood Angles, Salamanders, Ultramarines and Space Wolves). It was around this time Space Marine was released and I can recall many happy hours using these colours to paint up the hundreds of tiny marines, rhinos and land raiders that the set came with.
The painting guide was also very, very useful for the novice gamer. Thankfully, its available in a pdf format and if you follow this link you can have a flick through the guide too.
Space-Marines-Painting-Guide-1st-Ed
I never had this set back in the day... Its a recent addition to my painting collection. Contains the very useful Snakebite Leather and the essential Bleached Bone.
Then came the Ork and Eldar Paint Set. As with the Space Marine set, the objective here was to provide new shades to paint up your alien forces. Bad Moon Yellow, Go Fasta Red, Ork Flesh, Snakebite Leather, Fire Dragon Crimson, Striking Scorpion Green, Hawk Turquoise, Bleached Bone and Tin Bitz making up the set.
This set did away with the 'free' paint holder and mixing station that the plastic insert was often called and replaced it with sturdy polystyrene.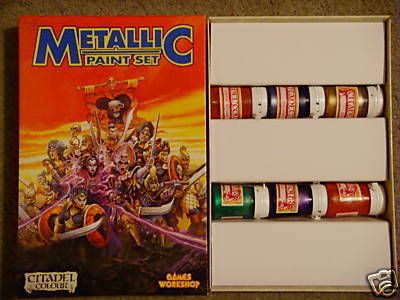 Only six paints? I have no idea what they were called, anyone know?
Finally came the Metallic Paint Set, which is the only set I do not own. I've seen it sell on eBay for £30 in mint condition in the last 12 months but I doubt that I'll ever add this one to my collection as I prefer to add colour to a metallic paint (such as Shining Gold) rather than have a specific paint. But I am a completist, so if I saw one at the right price.... You never know....
Subsequently, I cannot comment about these paints so I shall leave that to others. Did you own this set? Can you tell us what the paints were called and if they were any good? The metallic range was eventually retired in the mid nineties so I'd imagine that they didn't sell that well...
So Why Use Old Paints?
Half of my paints set out in the old school way, inside the lid of a painting box. Keeps things nice and tidy ....

I have been asked this question many times over the last year or so. Why use paints and colours that are over twenty years old (in most cases, this is literal) when there is so much modern product out there?
Well I have come up with three reasons why I use them. In the future, I may come up with more, but at the moment my motivations are like this...
1) The pots are much larger so you get much more paint. I am sure you too have noticed how with each relaunch you get less and less paint from modern Citadel. With these babies you can be sure that your pot of paint will last much longer than a modern equivalent.
2) They don't dry up like modern Citadel Paint. I have a Blood Red upstairs that was kept in a cupboard with the lid firmly shut that is dry and gunky. I must have bought it a couple of years ago in the Colchester Store. I have a Blood Red from 1985 that is still perfect. I use it most days... Nuff said!
3) Nostalgia. They were the paints I used as a boy and they feel comfortable to me. I know them. I have found myself struggling with other ranges even though I have used many a company's product. Strange I know! Also, the boxes are neat and easy to store. The art on the front cover has a big old school pull too. Then, there's that smell...
So How Do I Get My Hands On Some Of These Retro Paints?
Ebay is going to be your friend here. I sourced all my sets by searching for Warhammer Paints and keeping and eye out most days for sets and job lots. It didn't take me long to get my hands on most of the paints and these sets still come up (largely due to the fact that twenty years later you open the pots and the paint is still very usable) and some are practically mint. Don't pay more than £10 for a box set of nine paints though, I never did.
If you can't be bothered with all that searching you can buy all the shades (and many new ones) from Black Hat Miniatures under the Coat D'Arms range. At £2 a pot these are excellent value and contain plenty of paint. Be aware though, their washes are NOT the same as the classic 80s ink set. I buy my replacements from here now as most websites and stores hold the range. And even the pots are the same!
http://www.blackhat.co.uk/coat_darms/paintcolours.php
My preferred range of paints. Coat d'Arms maintain nearly all the classic 80s colours, though, of course, many of the names are different.


The range of colours and the name changes may be bewildering to some. Luckily, there are plenty of conversion charts available for the collector and painter. The best one I've found is on the DakkaDakka forums. Follow the link below to help you match the modern colours to the older, classic shades. They are not all included on the list, but the majority is there.
Paint_Range_Compatibility_Chart
Hopefully, this post has brought back plenty of memories to though halcyon days in the late '80s, Kylie and Jason blast from the radio as you paint your Heroquest Goblins in your bedroom. The summer sun shines in through the window as you splodge on plenty of Goblin Green trying, rather unsuccessfully, to avoid dribbling blobs of paint on your Bermuda shorts and white socks...
Orlygg.