My post about the
Citadel Giant
got me thinking about my own collection, rather than the wishlist collection I carry around in my head and unconsciously build each night trawling the depths of eBay.
How much is too much?
How much are these lumps of lead actually worth? Sadly, there is no
David Dickinson
of wargaming to step in and advise us, only inflated 'Buy it Now' prices and bidding wars on eBay. I think about Gaj's remarkable journey trying to collect together all the miniatures from the
Lichemaster
; he's now down to a single figure; the notoriously expensive Lichemaster himself.
But why is he so expensive?
I can understand the giant being pricey, there were after all only 1000 of the things casts. But that can be said of other miniatures out there - Kinky Chaosette, Slaanesh beastman with penis head... to name but a few. So why are certain things in the Citadel collecting world so expensive?
And out of all the miniatures, books and other paraphernalia I have amassed in my collection which ones cost me the dearest? And how does the amount I paid compare to the prices other collectors paid?
A lot of questions...
HIGHEST SPEND ON GW STUFF
The single highest item I ever paid out for that was related to Citadel or Games Workshop was The Lost and the Damned. This classic, and essential, publication set me back a whopping £57 a few years ago.
WAS IT A GOOD DEAL?
At the time, I thought this was a real deal, as I had seen copies go for over £100 in the past. Occasionally, I still do, despite the fact that it is now available as a pdf online. The spread of pdfs has reduced the price of many of these rare publications. I sold my copy of Empire in Flames for £75 back in 2004 (at the time, it was the most expensive book selling online) but I've never seen it reach quite that much since, thankfully! I guess I was there at the right time for Empire and The Lost...
SECOND HIGHEST SPEND ON GW STUFF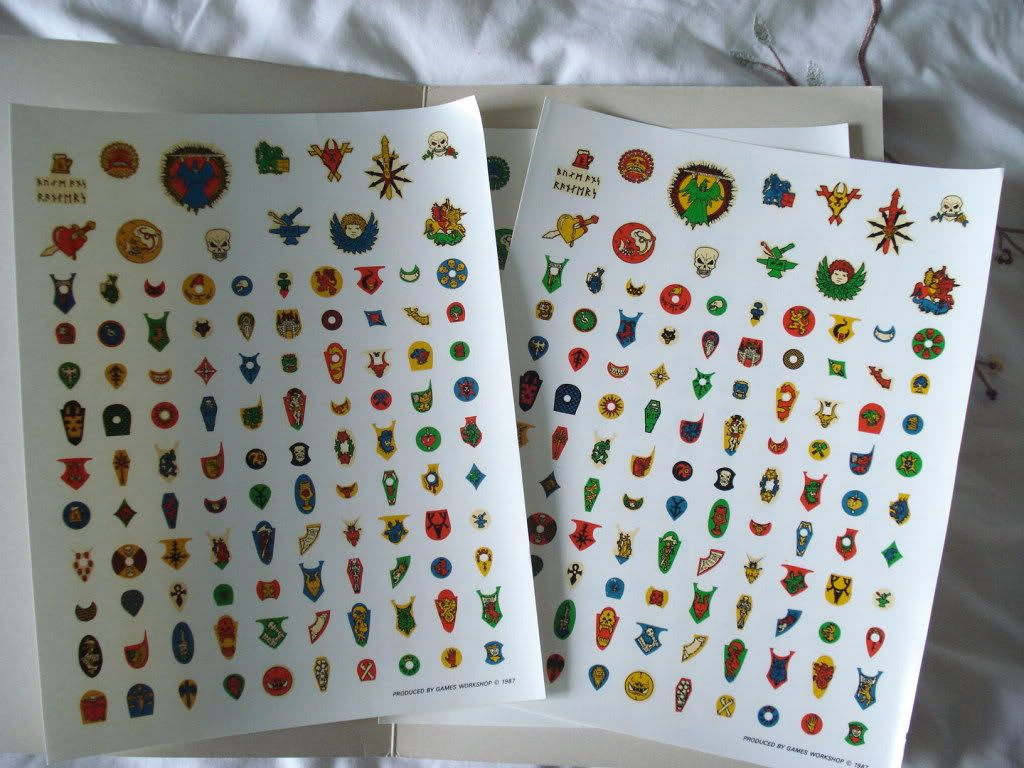 This was the Arcane Armorials transfers I scanned some while ago and put online (you can find a copy here). The were posted on eBay with a 'Buy it Now' of £29.99. I just had to have them! Sure, I'd seen small, tattered remnants up for sale but never whole sheets, let alone whole sheets with the packaging. I dropped the £30 there and then.
WAS IT A GOOD DEAL?
I believe so, simply because I have never seen another, and I often look for them.
THIRD HIGHEST SPEND ON GW STUFF.... Almost!
Not my paint job!
A Nurgle Champion. At the time of purchasing I had just seen one sell for £35 online. It was one of the few champions I did not have and I was desperate to complete the set. Checking out the listing, its had a couple of bidders and things were ate about £5 when, rather cavalierly, I dropped £25 down on the bidding. Bizarrely, the miniature remained at something like £7.84 up until the final 10 seconds. Some sniper took me out by slapping down £35 in the final seconds. Bastard! I thought at the time. A week or so went buy and I received an email from the seller saying aforementioned sniper has disappeared and debunked on payment. I was offered the miniature for £7.84 as a 'Buy it Now'. I didn't wait to ask the wife, I can tell you!
WAS IT A GOOD DEAL?
Yes!
I guess 'how much is too much' depends on the spender. If you're willing, and have the capital, to spend over the odds for things then I guess you can. I prefer to spend less and get a good bargain (as I think the rest of you collectors do, too) especially if you think 'yes, I've got that cheap'. Nothing like feeling a little satisfied with yourself, after all, it makes the painting all the more sweeter!
So, out of interest... What was the single most item you bought relating the GW hobby and was the price you paid worth it?
Orlygg.